Sa'id Vakili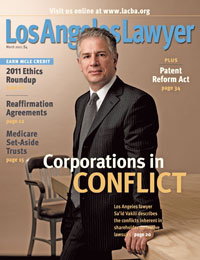 Partner
For over 25 years, Sa'id Vakili has successfully represented businesses and individuals in areas such as business disputes and business torts, shareholder disputes (direct and derivative), complex contracts, intellectual property litigation (patent, trade dress, copyright, trademark and trade secret disputes), and all forms of employment claims. He has also handled all varieties of injury tort claims including those involving products as well as claims arising under maritime and aviation law. Over the years, he has litigated hundreds of cases and has achieved multiple results in the seven and eight figures and successfully defended cases in equal and greater amounts.
His clients include, among others, C-suite executives in both public and private companies across a variety of industries, entertainers, authors, university academics and legal, accounting, and medical professionals.
Mr. Vakili is admitted and actively licensed in California, New York, New Jersey and Washington, D.C. and has handled cases in various other jurisdictions such as Arizona, Florida, Nevada, New York, Ohio, South Dakota, Virginia, and West Virginia through associations with local law firms in those locations.
Mr. Vakili has achieved AV Preeminent™ rating with Martindale-Hubbell®, which is a nationally-recognized acknowledgment of his accomplishments and skills as an attorney and is the highest possible rating offered.

Education
Touro Law School (J.D. - 1992)
Columbia University (M.A. - 1989)
Pace University (B.A. - 1986)
Bar Admissions
California, 1995
New York
New Jersey
Washington, D.C.
Courts
Supreme Court of the United States
U.S. Court of Appeals for the Armed Forces
U.S. Court of Appeals for the Federal District
U.S. Court of Federal Claims
U.S. District Court (New Jersey)
U.S. District Court (Northern California)
U.S. District Court (Central California)
U.S. District Court (Eastern California)
U.S. District Court (Southern California)
Published Opinions
Hagberg v. California Federal Bank, FSB (2004) 32 Cal.4th 350
DeLuca v. State Fish Co., Inc. (2013) 217 Cal.App.4th 671
Swallow v. Cal. Gambling Control Commission (2022) 217 Cal.App.5th 1037
Significant Cases
Baum v. Smart & Final Stores Corp., 2003 Cal.App. Unpub. LEXIS 9139
Turner v. Kaiser Found. Health Plan, 2005 Cal.App. Unpub. LEXIS 6670
Mohamed v. Soliman, 2015 Cal.App. Unpub. LEXIS 5683
Roberts v. Swallow, 2016 U.S. Dist. LEXIS 97681
In re Marriage of Howard, 2017 Cal.App. Unpub. LEXIS 4226
Mohamed v. Soliman, 2019 Cal.App. Unpub. LEXIS 1204
Tahl Mah Sah v. Nanshun Jin, 2019 Cal.App. Unpub. LEXIS 7674
Software Freedom Conservancy, Inc. v. Vizio, Inc., 2022 U.S. Dist. LEXIS 87115
Souza v. Cal. Gambling Control Commission, 2023 Cal.App. Unpub. LEXIS 3511
Affiliations / Interests
Multi-Million Dollar Advocates Forum
Top 50 Attorneys of 2019 Magazine
Top 50 Civil Rights Settlements in California in 2017
Association of Business Trial Lawyers (ABTL)
Pacific Council on International Policy
Litigation Section of the State Bar of California
Los Angeles County Bar Association (LACBA)
Consumer Attorneys Association of Los Angeles (CAALA)
Consumer Attorneys Association of California (CAOC)
California Employment Lawyers Association (CELA)
Blue Belt in Brazilian Jiu-Jitsu